Frequently Asked Questions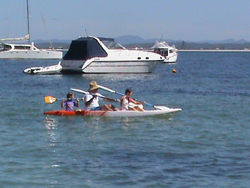 What methods of payment do we take?

Cash
Card (we have a mobile EFTPOS machine)
Direct transfer in to our bank account
What does your hire include?

The watercraft
Paddle(s)
Personal Floatation Device (PFDs)
Backrest (for sit-on-top kayaks)
What hours do we operate?
8am to 6pm
In general, picks ups and drop offs are usually between 8am and 6pm, however, we are somewhat flexible with our times, so just let us know what your requirements are and we will try to fit around you as best we can.
Do we offer short term hire for corporate groups?
If you looking to do an activity with your team, contact us about how we can assist you.
We have taken a number of groups of 10, 15 and even more people for a 2 hour exploration paddle on the Shoalhaven River. A fun way for team members to interact.
Do I have to be fit to paddle?
Whilst a certain level of personal fitness is required, even people with limited fitness can try paddling. As kayaking is a low impact sport, it is a great way for people with hip or knee problems who find bushwalking too hard, to still be able to get out in to nature.